hey there guy's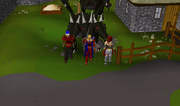 , its 1coolshadow here with some tips on getting

99 prayer and more. to start off you should either have 100m or so or you can just mine rune essence. i would prefer buying bones. first off buy alot of dragon bones or big bones which are cheaper, now instead of burying them you will use them on an altar for much more exp. just make your inventory empty and pull out full inventorys of your dragon or big bones then us them on altar, then repeat many times. the whole point of having high prayer is to kill dragons and jad. if your thinking about getting into the highscore list for prayer do this for an extended period of time and use exp lamps on prayer. it is time consuming but its well worth it. without prayer you wont stand a chance again dragons or jad. i hope this guide helps and good luck with prayer!
Ad blocker interference detected!
Wikia is a free-to-use site that makes money from advertising. We have a modified experience for viewers using ad blockers

Wikia is not accessible if you've made further modifications. Remove the custom ad blocker rule(s) and the page will load as expected.